INFINITI QX56 / QX80 Z62 2010- fluids type and filling capacities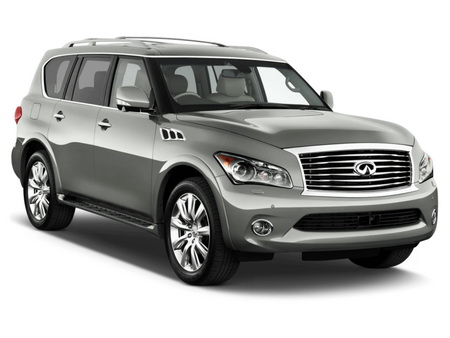 Recommended engine oil, transmission fluids, coolant type, filling capacities and service intervals for INFINITI QX56 / QX80 Z62 2010-.
Agregate
Recomeded fluid
Capacity (L)
Intervals
5,6L petrol engines ( VK56VD)
5W30 with API certification mark; API SG or higher, ILSAC GF-1 or higher, ACEA A2
6,5 (7,6 - dry engine)
6000 km (3800 miles) or 3 months
Cooling system (VK56)
NISSAN Long Life Antifreeze/Coolant (blue)
14,9
120000 km (75000 miles) or 60 months
7-speed automatic transmission (RE7R01B)
NISSAN Matic S ATF
10,0
Transfer case
NISSAN Transfer Fluid for ATX90A transfer
1,5
48000 km (30000 miles) or 24 months
Front differential
NISSAN Differential Oil Hypoid Super GL-5 80W-90 or equivalent
0,75
48000 km (30000 miles) or 24 months
Rear differential
NISSAN Differential Oil Synthetic 75W-90 or API GL-5 synthetic gear oil or equivalent
1,75
48000 km (30000 miles) or 24 months
Hydraulic suspension
NISSAN Hydraulic Suspension Fluid
3,2
Power steering
NISSAN PSF or DEXRON IV type
1,0
Brake
NISSAN Super Heavy Duty Brake Fluid or equivalent DOT 3 (US FMVSS No. 116)
15000 km (9000 miles) or 1 year
Propeller shaft
NLGI No.2 (Molybdenum disulphide lithium soap base)
7500 km (4500 miles)
The propeller shaft should be re-greased after being immersed in water
Multi-purpose grease
NLGI No. 2 (Lithium soap base)
Information of this table may be incorect for your region or driving conditions. Refer to the owners/service manual for details.
If this website is helpful you can rate and share it: